Apr 2, 2010
Ok....I've done it....I've reached 200 blog followers!!!!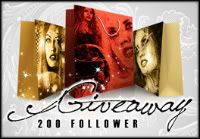 (YAY!!!! I have some New Awesome Graphics!!!)
yay!!! woo hoo!!! And not only that, i have reached 664 twitter followers!!! *jumping up and down*
I know....I can't believe it either! And to spread the love i have decided to do a giveaway! *clapping* Now i had a really hard time deciding what to pick for a giveaway. First i thought a Box-O-Books (25 used romance,no clue what would be in them), Lover Mine By: J.R. Ward, or your choice from book depository. And the verdict is in.Since i want this to be an international giveaway i am going to make it book of your choice(up tp $8.00) from book depository (if they deliver to your country)And thats just for starters!! For every 50 followers i get, i'll add another winner!!! I will update as we get there! And you never
know, i may throw in more goodies along the way!
So thank you to all my followers,and welcome to all my new followers!
***UPDATE
200 Followers = 1 winner
250 Followers = 2 winners
300 Followers =
350 Followers =
***

If you can design me a better Graphic its an extra 10 points! LOL
~MUST

leave a comment on THIS post
~MUST

fill out the form
HERE
***Extra entrys are in the form
Contest open Internationally (As long as Book Deopistory ships to you)
Contest runs April 2 - April 21