Dec 11, 2009
On the 3rd Day Of Blogmas we have Gena Showalter !!!!WOO HOO....YAY!!!! Gena herself Could not be here today due to her deadlines, and i sooooo do not want to get in the way of her awesome writing!!! I'm a HUGE fan and need more lords !!! But Gena has sent me a book (not sure which one yet, it hasn't arrived) to give away to one lucky fan !!! *quirks brow* if i don't sneak this one on my bookshelf first !!! HE HE. *shakes head* just kidding, i wouldn't do that to you.
So since she is one of my favorite authors, i thought for today i would share my fav. books by her, with a little info from the back of the book!! So sit back, and welcome to the Showalter World !!!
Gena Showalter is the New York Times and USA Today bestselling author of Paranormal Romance, Contemporary Romance, and Young Adult novels from a multitude of publishers. She has appeared in Cosmo and Seventeen magazines, on MTV, and has also been featured on many regional and national news programs.
Gena credits much of her success to her wonderful fans, amazing family, and the three slobbery English bulldogs who sleep under her desk. She is a self proclaimed coffee addict and when she's not writing she likes to…well, we're not sure. We've never seen her do anything but write.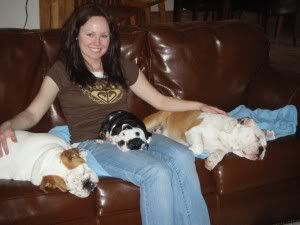 Gena and her beloved bulldogs
Gena's Books
LORDS OF THE UNDERWORLD
He is the guardian of hell, more monster than man. She is the goddess of oppression, more angel than woman. Together they will enter the flames to battle a dangerous horde of demon lords — and discover a passion unlike any other….
Don't miss this sizzling prequel to Gena Showalter's breathtaking new paranormal series, The Lords of the Underworld! Though they carry an eternal curse, the Lords of the Underworld are irresistibly seductive — and unimaginably powerful….
She has tempted many men… but never found her equal.
Until now.
Though she has lived for centuries, Anya, goddess of anarchy, has never known pleasure. Until Lucien, the incarnation of death—a warrior eternally doomed to take souls to the hereafter. He draws her like no other. And Anya will risk anything to have him.
But when the merciless Lord of the Underworld is ordered by the gods to claim Anya herself, their uncontrollable attraction becomes an anguished pursuit. Now they must defeat the unconquerable forces that control them, before their thirst for one another demands a sacrifice of love beyond imagining.…
His powers — Inhuman
His passion — Beyond immortal . . .
All her life, Ashlyn Darrow has been tormented by voices from the past. To end the nightmare, she has come to Budapest seeking help from men rumored to have supernatural abilities, not knowing she'll be swept into the arms of Maddox, their most dangerous member — a man trapped in a hell of his own.
Neither can resist the instant hunger than calms their torments . . . and ignites an irresistible passion. But every heated touch and burning kiss will edge them closer to destruction — and a soul-shattering test of love . . .
Reyes is a man possessed. Bound by the demon of pain, he is forbidden to know pleasure. Yet he craves a mortal woman, Danika Ford, more than breath and will do anything to claim her—even defy the gods.
Danika is on the run. For months she's eluded the Lords of the Underworld, immortal warriors who won't rest until she and her family have been destroyed. But her dreams are haunted by Reyes, the warrior whose searing touch she can't forget. Yet a future together could mean death to all they both hold dear.…
Passion and danger collide in this brand-new Lords of the Underwold eBook exclusive adventure.
Once, Atlas, the Titan God of Strength, was Nike's slave. Now, he is her master! Soon these long-time enemies destined to destroy one another will be forced to risk everything for a chance at love…
He is the keeper of Doubt and his entire world's about to be rocked.
Bound by the demon of doubt, Sabin unintentionally destroys even the most confident of lovers. So the immortal warrior spends his time on the battlefield instead of the bedroom, victory his only concern…until he meets Gwendolyn the Timid. One taste of the beautiful redhead, and he craves more.

Gwen, an immortal herself, always thought she'd fall for a kind human who wouldn't rouse her darker side. But when Sabin frees her from prison, battling their enemies for the claim to Pandora's box turns out to be nothing compared to the battle Sabin and Gwen will wage against love…
The Darkest Fire, The Darkest Prison, and The Amazon's Curse are currently only available as eBooks. These can be read on the popular Kindle or any other "reader" as well as in pdf, Microsoft and other formats. These books are too short to be books on their own, but will be coming out together in one book (with bonus LOTU material) in the future (May 2010,
Into the Dark
).
ATLANTIS SERIES
He is Layel, king of the vampires, a master seducer no woman can deny. But since a rogue horde of dragons killed his beloved over two centuries ago, Layel has existed only for vengeance…until he meets Delilah. Wary of love, the beautiful Amazon wants nothing to do with the tormented vampire. Yet there s no denying their consuming desire every time he nears her.
Neither trusts the other nor can they survive alone. For in an impossible game of the gods devising, they ve been trapped on an island, about to face the ultimate challenge: surrender to the passion that will bind them forever…or be doomed to an eternity apart.





Enter a mythical world of dragons, demons and Nymphs…enter a world of dark seduction and powerful magic…enter Atlantis…




He is Valerian, the most darkly seductive male ever created. He embraces every aspect of his sensuality, reveling in his erotic powers. No woman can resist his potent allure. . .until he steals cynical Shaye Holling from modern day earth. Valerian's hunger for Shaye is soul deep – but she is to be offered up to his men…




While Shaye claims to want nothing to do with the mighty warlord whose touch is like fire, she is inexplicably drawn to him. For underneath the warrior's arrogant beauty lies a complex and powerful man. A man she is finding hard to resist…




All Atlantis seeks the Jewel of Dunamis, which legend claims can overcome any enemy. Grayson James, human agent of the ultra-secret Otherworld Bureau of Investigation, has orders to keep it from the wrong hands — or destroy it. What he doesn't know is that Jewel is a woman, not a stone! But once he meets this precious gem, destroying her is the last thing on his mind . .
Jewel, part goddess, part prophet, is a pawn in Atlantis's constant power struggles. She needs Gray's help to win freedom and uncover the secrets of her mysterious origins. Gray needs her wisdom to navigate monster-ridden Atlantis. But need blossoms into passionate love as they fight demons, dragons, vampires — and a prophecy that says the bond between them could destroy them both.
Grace Carlyle's world was about to change . . .
Deep in the jungle on the trail of her missing brother, Grace never expected to find a secret world populated by mythological monsters — nor guarded by a sword-wielding being whose beauty put mortal men to shame.
Darius en Kragin belongs to a race of shape-shifting warriors sworn to guard Atlantis and kill all travelers who stray within its boundaries. Yet when Grace stumbles into his realm, he finds himself tempted to betray his centuries-old vow.
Now their forbidden love will either bring their worlds together — or tear them both apart.
***Thanks everyone for Taking the time to look at MY FAVORITE books By Gena Showalter. Now onto the contest!
I'm not sure what book she has sent for me to giveaway, cause it has not shown up yet. but as soon as it does i'll let you know!!! But still comment to enter!!!
Giveaway:
~What is your fav. gena showalter book?
~Follow Gena on twitter
~Follow JoJosBookCorner on twitter
~Blog Follower
**Don't forget to tell me what country you live in