Aug 17, 2011
Hey, Jo,Jo. Congrats on the two years for the Book Corner. I'm so excited to be here to help you celebrate. You gave me an assignment. I'm happy to announce I finished it and the results are here.
Simon Baker
So first, you asked me if I have any pictures of hotties. I admit it. I rarely look for pictures of my heroes. I'd rather imagine all on my own, thank you very much. But with my latest novel, AS YOU WISH, I had a definite actor in mind as I wrote it. The actor? Simon Baker. Usually my heroes are dark haired (for whatever reason, I prefer dark haired men), but for Jonathan Bastion, Simon Baker wouldn't leave my mind. He and the way he plays Patrick Jane on THE MENTALIST were the perfect fit—the outwardly casual demeanor that covers a tortured interior, the confidence he exudes, and the looks don't hurt either.
This actor thing seems to be trending with me, because as I was writing the third book, WISHFUL THINKING (March 2012), in the trilogy, I found the perfect picture for my hero again. This time it was Til Schweiger (Inglourious Basterds). He looks the part of Hunter Merrick, right down to the dimple in his chin. I like the rugged look.
So now I'm working on something new and wondering if I again will find a pic for hero. I've decided that it's not a bad thing. Gives me a great excuse for looking at lovely men, even if I totally love my husband. But I may just not tell him.
Then you asked me to share a favorite recipe. Really? This to a woman who nearly burned the house down boiling water? (Okay, I was making hummingbird nectar, but essentially it's just sugar and water, and I forgot I was making it until it was smoking up my kitchen.) But here's one that's nearly foolproof when you need something quick and don't want to heat up the kitchen.
~ 1 bag Dole's Classic Cole Slaw or any other brand that's ready to go.
~ 1 pound already cooked chicken (breast works best)
~ 1 package chicken flavored Ramen noodles (the add hot water kind—just be careful when boiling water—see above)
~ 1 can Mandarin oranges
~ ¼ cup vinegar
~ ½ vegetable oil
~ 4 T Water
~ 4 T sugar
~ dash of soy sauce
~ Sliced almonds
Open the bag and dump into bowl big enough to hold all that slaw and still have room for tossing (I use a really big one—have I mentioned I'm not a great cook and bigger ensures it stays in the bowl when I toss?). Cut the chicken into bite size pieces. Put in bowl. Drain oranges and add to bowl. Open noodles. Set aside flavor packet. Break up noodles and throw in bowl. In a large measuring cup, combine flavor packet, vinegar, oil, water, sugar, and say sauce. Mix thoroughly. You can add more water, or more vinegar or more sugar depending on how it tastes to you. This is your salad dressing. Pour thoroughly mixed dressing over salad and toss. Add slivered almonds it you wish. Eat. It's surprisingly good and easy to make—a necessary criterion for me.
And third you wanted me to share one of my favorite reads that's a little bit older. So here is my go-to comfort read: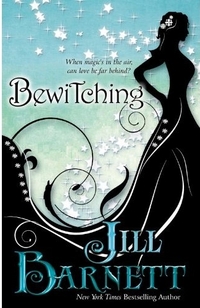 Bewitching
by Jill Barnett.
It's got magic, humor, a great story, and is just so wonderful. Sigh. I may have to go pull it off my shelf again right now.
So there you have it. Readers, I know I geared this blog to answer JoJo's questions to me, but I want to hear from you too.
So here's my question to you:
What was your most embarrassing kitchen incident?
I'll relate more of mine in the comments. Believe me, I have plenty.
And I'd like to help JoJo celebrate some more with a
One lucky commenter will receive a copy of my book, AS YOU WISH (trust me, you do not want me sending you cookies or something). I'm donating ten percent of my royalties from AS YOU WISH to Best Buddies International, a group dedicated to building friendships for people with intellectual and developmental disabilities.
Find out more about them at
www.bestbuddies.org
.
--Gabi Stevens
www.GabiStevens.com
www.GabiStevens.blogspot.com
Find me at Twitter and Facebook
To enter the giveaway Answer Gabi's question above
*** Giveaway ends tomorrow night 8-18 at midnight, winner named here
Don't forget to check out the
above, for all the giveaways, and ways to enter
to win prizes all week and all month