Aug 11, 2010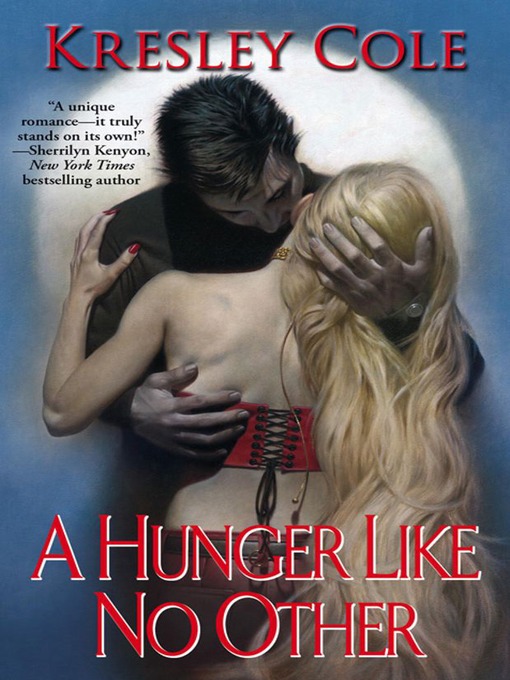 A Hunger Like No Other
By: Kresley Cole
Publisher:

Simon & Schuster
Published:

June 2008
Format:

Paperback 368 pages
Genre:

Fantasy Romance
Adult & Contemporary Romance
Websites:
Goodreads
,
Authors Website
,
Book Depository
A mythic warrior who'll stop at nothing to possess her…
After enduring years of torture from the vampire Horde, Lachlain MacRieve, leader of the Lykae Clan, is enraged to find the predestined mate he's waited millennia for is a vampire. Or partly one. This Emmaline is a small, ethereal half Valkyrie/half vampire, who somehow begins to soothe the fury burning within him.
A vampire captured by her wildest fantasy...
Sheltered Emmaline Troy finally sets out to uncover the truth about her deceased parents--until a powerful Lykae claims her as his mate and forces her back to his ancestral Scottish castle. There, her fear of the Lykae--and their notorious dark desire--ebb as he begins a slow, wicked seduction to sate her own dark cravings.
The two main characters, Lachlain and Emma, are total opposites and of course are meant for each other. Lachlain is Lykae and Emma is half Valkyrie and half Vampire. The Lykaes hate Vampires and the feeling is mutual, Vampires are less than fond of Lykaes.
Lachlain has waited his whole life to find his mate and now to his horror, she is half Vampire. His people have been killing Vampires for ages. But Vampire or not Emma is his mate and he will protect her forever. Whether she likes it or not!
Emma is just as horrified to learn that a Lykae thinks her to be his mate. What will her family think? Emma has been very sheltered in her life and this Lykae is a huge brute that is keeping her prisoner because he believes her to be his mate. I don't want to give the story away so I will stop here.
I had a difficult time getting into this book initially. I thought it dragged a little bit, although in the end I really did enjoy it,And the more I read, the harder it was to put down. I know there are those who won't agree with me, lol, but there you go.
I liked how Kresley Cole handled the evolution of the two main characters' relationship. You could feel Lachlain's frustration at finally finding his mate and the issues involved (I don't want to give those issues away, hehe), and you could feel the fear and uncertainty Emma felt as she finally starting moving out of the shelter of her family and finding herself and the man she loved.
All in all I thought it was a great book and by the end I was totally hooked. I thought this was really well written. The story is engrossing and the sex is hot! What more can you ask for in a book? I suggest you have the next book in the series on hand when you finish this one because you will want to go on to the next immediately!!
***FTC Disclaimer: Some books reviewed on this site have been provided free of charge by the publisher, author or publicist. Some books I have purchased with my own money and will be noted as such. Any links to places to purchase books are provided as a convenience, and do not serve as an endorsement by this blog. All reviews are the true and honest opinion of the blogger reviewing the book. The method of acquiring the book does not have a bearing on the content of the review.