Apr 15, 2011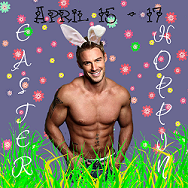 It's here! It's finally here!!!
It's time for the Easter Hoppin Blog Hop! I wanted to talk your all's ears off for a few before we get to the giveaway, but if you guys have already looked down at the bottom, we have 73 blogs participating! YES, you read that right,
Authors, bloggers, and readers participating!!!! SQUEEEEEEEEEEEEEE is that not fantastic!! Danielle (lush) and I had absolutly no idea, this would turn out this big! But I don't want to keep you here any longer than possible. So here is what I have for my Easter Hoppin Blog Hop Giveaway
Click picture for a bigger view


Includes:
~ Cute orginization box
~ Wicked Writers Excerpts book
~ Trade size plastic book cover
~ Little Black Agenda Book
~ Dark Days and Wicked Nights Sampler
~ Sin Undone by: Larissa Ione
~ Taken by Midnight by: Lara Adrian
~ Apple and Spice, Hand & Body Lotion
~ Blood Bath, Bubble Bath
~ Scented Oil
~Swag
-Gabi Stevens
-Larissa Ione
-Sydney Croft
-Leanna Renee Hieber (signed)
-Caridad Pineiro
-Jae Lynne Davies (signed)
+ MORE!!!
So....does that all sound good to you?!?! Awesome! now here is what you must do in order to be entered into this giveaway.
**RULES**
- MUST BE A FOLLOWER

-
( I know, i don't normally have this for giveaways, but I do on Blog hops )
- Must
comment on this post. let me know how much your enjoying the hop
- What
country do you live in?
- Must
leave a valid e-mail to contact the winner (please do not add your complete e-mail. we do not want it picked up by spammers. for Exp: leave DOT instead of . or AT instead of @ )
**Giveaway ends Sun night ( 4-17 ) at Midnight, winners will be chosen and named on the winners page. (link top right)
Now use that there Linky list below, and start hopin all over for more fabulous giveaways!!!