Dec 9, 2009
Hey Everyone! Welcome to the 1st Day of Blogmas!!! Today we have with us Author Lisa Renee Jones . Lets give her a round of applause *clap...clap...clap...clap...clap...* Thank you so much for being here today.
We have a wonderful interview instore for you , with a giveaway at the end!! So sit back in your chair, get all cosy and enjoy the Interview with:
JJBC~Do you read your own books after they make it to final print?
LRJ~No- by the time I've gone through all the many parts of the publishing process, I've read them so many times, I feel like I can't read them again. And then-- if I do -- I'm terrified I will find something we missed or something I hate, which will only make me fret. And I am good at fretting!
JJBC~What do you like to Read? Your Favorite Genre?
LRJ~I love all genres. I think historical is my best escape because I don't write it so I don't think about craft. I just escape and enjoy. But I love contemporary and paranormal reads! Lori Foster and Sherrilyn Kenyon are two favorites.
JJBC~Do you have a favorite book /series?
LRJ~Kenyon is probably my favorite. I just love how she makes me laugh outloud in the middle of such dark moments.
JJBC~Did you always want to be a writer?
LRJ~No but I did some independent films and some stage and I think it was the creativeness in me trying to find expression
JJBC~How old were you when you began to write?
LRJ~Late 30's-- I owned a business I was about to sell and it allowed me to get back in touch with my creative side
JJBC~Is writing your full time job?
LRJ~It is.
JJBC~What's a typical writing day for you like?
LRJ~I get up at 10ish and drink coffee and watch a little news. Then I do the misc admin stuff life and writing demands. I typically start writing about 1pm and then break around 8pm to run and workout.
JJBC~~Do you set a daily writing goal?
LRJ~Yes. I do. Depends on the project but I keep a schedule that has deadlines on it and the daily count needed to get there.
JJBC~Where do you like to write?
LRJ~It changes, I go through stages where I love a bookstore and times when I need to be in my office at home. Even times when my fluffy chair works and times when my desk works.
JJBC~Are there any processes you use when writing? Do you keep journals, sticky notes, chicken scratch on the back of receipts?
LRJ~I keep sticky notes taped to my desk with eye color and hair and stuff like that. But for an ongoing series I keep a word file with a details glossary.
JJBC~Do you prefer to write on a computer, typewriter, or paper and pen?
LRJ~I have a notebook computer that goes everywhere with me -- even to bed for a while before I sleep.
JJBC~What are you reading at the moment?
LRJ~I just got a Rachel Gibson novel on Audio. Can't wait to start it at the gym tonight!
JJBC~Do you have any advice for aspiring writers?
LRJ~Just keep going. Keep reading. Keep writing. Stay open to advice and growth. Don't give up. I've had a lot of blows. I am not an overnight success. It's tough but if you want it, keep writing.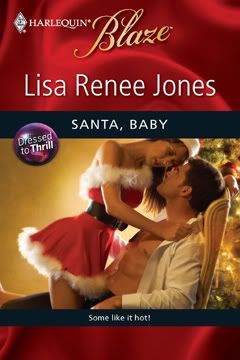 SANTA BABY
JJBC~Can you tell you tell us a little bit about Santa Baby?

LRJ~Santa Baby is my December release and its book 4 in the Dressed to Thrill Blaze mini-series. It's a fun story with a heroine finds her sexy side when she ends up, through a mishap, in a Marilyn Monroe costume.
JJBC~How did you come up with the idea for this series? From a dream, from watching tv, while reading another book?
LRJ~This is a mini-series I was invited to join and was honored and thrilled to be a part of. The authors are very talented. The premise was already set so I had fun coming up with my costume mishap.
JJBC~Did you have to do any type of research before writing this book?
LRJ~The heroine is a lot like me -- funny stuff happens to her. I really think she is more like me than any character I've written. No research needed!
JJBC~Who's your favorite character and why?
LRJ~I'd say this one simply because I related to her.
JJBC~Are any of your characters based on people in your
life?
LRJ~Just this one!
Thank you Lisa for this wondeful Interview!!!
You can also find Lisa here:
Twitter
LisaReneeJones.com
Lisa's Newsletter
Lisa's Books
***Wait....don't go...there's more !!! Lisa has generously offered to Stop by through out the day to answer questions any of you lovely fans has , and she has a also offered a signed copy of " Hot Holiday Nights from Alluring Tales and Captive by the Beast " for me to give away to one lucky reader !!!
Lisa has also generously given me a signed copy of " Lone Star Surrender" to add the extra contests at the end of 12 Dayz of Blogmas. So go ahead ask away!! The contest Ends Dec. 23 with a vlog drawing on Dec 25th
Giveaway Rules:
1~ Answer the question:
Whats your favorite Holiday Read? Do you have certain books you like to read during the holiday ?
2~Follow JoJosBookCorner Blog
3~Follow Lisa on
Twitter
4~Follow
JoJosBookCorner on Twitter
5~Sign up for
Lisa Renee Jones Newsletter
*** Please leave what country you are in on your comments.....*taps chin* it may have to do with something at the end !!!